Preparing for the World Meeting of Families 2018
Hosted by
The Irish Institute for Pastoral Studies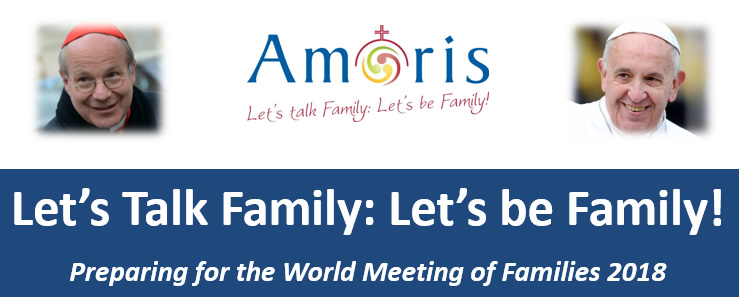 Hosted by
The Irish Institute for Pastoral Studies
(in association with the Irish Institute of Catholic Studies)
Tara Building, Mary Immaculate College, Limerick
Thursday 13th July 2017
Programme
2.00pm: Prayer and Words of Welcome by Bishop Brendan Leahy, Bishop of Limerick
2.30pm: Amoris Laetitia by Cardinal Christoph Schönborn, O.P.
The Archbishop of Vienna, Austria is a highly regarded author, teacher, and theologian. In 1980, he became a member of the international theological commission of the Holy See, and in 1987 he became editorial secretary for the Catechism. He speaks six languages and has written numerous books. He was a student of Joseph Ratzinger (Pope Benedict XVI) and with him was co-editor of the monumental Catechism of the Catholic Church. Pope Francis chose Cardinal Schönborn to be the main presenter of his post-synodal apostolic exhortation Amoris Laetitia (The Joy of Love).
4.00pm: Parallel Workshops:
Millennial Youth, Generation X and the Regeneration of the Disconnected

An exploration of ways in which the upcoming Synod on Young People, the Faith and Vocational Discernment could be integrated in to our preparation for the World Meeting of Families 2018. by Gerard Gallagher, Gerard is a Pastoral Co-Ordinator with the Archdiocese of Dublin. He is passionate about generating new energy in the area of pastoral ministry with a special focus on youth and young adults. He has been a member of the team that delivered the Year of Evangelisation (2009/10) and also a member of the Local Planning Committee for the International Eucharistic Congress 2012. He is the author of a number of books including: Are We Losing the Young Church? - A History of Youth Ministry in Ireland.

Introducing the Catechetical programme for WMOF 2018

Petra Conroy, Petra has worked as Project Coordinator for Catholic Comment and has worked as a film-maker and trainer, and has recently been appointed, Pastoral Programme Manager for the World Meeting of Families 2018.

Martin Kennedy, Martin works freelance as a trainer and facilitator with church and community groups, and has recently been appointed, Pastoral Programme Coordinator for the World Meeting of Families and is coordinating the delivery of resources to dioceses. Among his published texts is: Ministry Now – New Approaches for a Changing Church.

Jessie Rogers, Jessie Rogers is lecturer in Sacred Scripture at St Patrick's College, Maynooth, a Godly Play trainer, and on her way to qualifying as a spiritual director. Originally from South Africa, she now lives with her family in County Limerick.

An academic seminar on the theme of 'Amoris Laetitia one year on: status quaestiones'. Led by Cardinal Christoph Schönborn
5.30pm: Break
7.00pm: Public Lecture "The Parish: Family of Families" by Cardinal Christoph Schönborn, O.P.