On Sunday 28th October Mary Immaculate College displayed two volumes of the Heritage Edition of the St John's Bible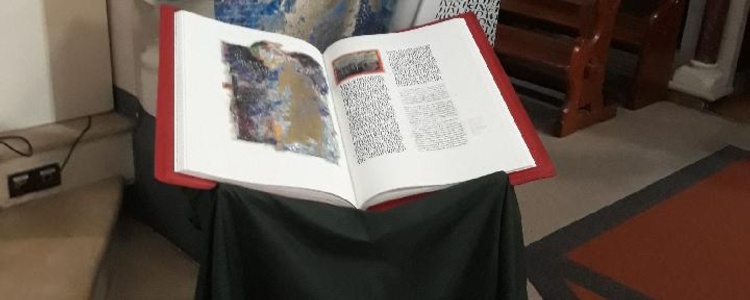 Scripture Sunday
As the Year of Mercy came to an end Pope Francis issued his Apostolic Letter Misericordia et Misera. In that letter he expressed his "great desire" that "God's word be increasingly celebrated, known and disseminated, so that the mystery of love streaming from this font of mercy may be ever better understood".
Quoting St. Paul, 'All Scripture is inspired by God and profitable for teaching, for reproof, for correction, and for training in righteousness' (2 Tim 3:16), Pope Francis went on to express his belief that "it would be beneficial if every Christian community, on one Sunday of the liturgical year, could renew its efforts to make the Sacred Scriptures better known and more widely diffused."
To this end the Munster Province of Bishops designated Sunday October 28th, 2018 – the Thirtieth Sunday in Ordinary Time - as Scripture Sunday to give a specific focus on the importance of Scripture.
The Theme for this day was The Word of God and the Family.
St. John's Bible and Mary Immaculate College
The Saint John's Bible is the first completely hand-illustrated, handwritten and illuminated Bible in more than 500 years (since the invention of the printing press) commissioned by the Benedictine monks at Saint John's Abbey and University, USA. Donald Jackson, the artistic director of the original manuscript, is a world famous calligrapher, and he led a team of artists in Wales and scholars in Central Minnesota who brought together the ancient techniques of calligraphy and illumination. The result is a seven-volume set of artistic renditions of the Scriptures which is a living document and a monumental achievement.
The Saint John's Bible Heritage Program is an international initiative for individuals and institutions to explore the artistic and spiritual beauty of The Saint John's Bible. Through its primary offering, the Heritage Edition, communities around the world can use this gift of sacred art to ignite their spiritual imaginations for generations to come. The Heritage Edition is a work of art in its own right. Leading manuscript experts around the world who have seen the Heritage Edition recognize it as the highest quality reproduction ever made.
Mary Immaculate College currently holds four volumes of The Heritage Edition.
Volumes from The Saint John's Bible are on public display on all three MIC campuses.
Gospels and Acts, (Volume 6); Located: Foyer, MIC Thurles.
Wisdom, (Volume 3); Located: JHNC Atrium
Letters & Revelations, (Volume 7); Located: Foyer, MIC Foundation Building
The Pentateuch, (Volume 1); Located: President's Office, MIC Limerick